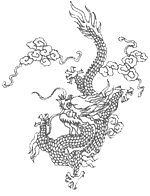 Special Topics
Ceramics and Porcelain
Chinese Antique Pottery
Chinese Lacquerware
Neolithic Bronze
Decorative Lighting
Chinese Embroidery
Chinese Jade
Ancient Chinese Architecture




China Style
Offers China ancient history and culture, also to assist non-native people to have an easy access to ancient China ......


View More in China Style




Antique Furniture Glossary
Joinery, Chinese lattice or fretwork, Mortise and tenon structure, Low -relief engraving, Caning, Plain hardwood, Horsehoof, Lacquer, Waisted, Spandrel, Feng Shui, Apron, Cabriole leg,Carcass,Case furniture, Chinoiserie......


View Detailed Information
Luban Carpentry Ruler (Luban Chi)
Western golden ratio has long been applied on architecture and object designs in our society, but in fact, we have our traditional way of measurement.
The Luban carpentry ruler was used in ancient times in the construction of residential houses and furniture. A whole structure and each of its parts would have its height, width and length measured in lucky numbers.
Antique Furniture Joinery
Classic Chinese furniture is unique for many reasons, including its exquisite carvings, rare woods and joinery. Each type has joints that are suited for the particular strains and stresses that will be placed on it.



View Detailed Style

Chinese Furniture Style

The development of traditional Chinese furniture went from the simple to the intricate, and was closely linked to the Chinese lifestyle and cultural and economic changes in China. In early antiquity, the Chinese sat mostly on straw mats on the floor.

View Detailed Style

Furniture Maintenance (Restore & Care)
How do I stain furniture?
How to refinish a wood table?
How to refinish wood furniture?
How to restore Chinese old wooden furniture?
How to restore your old furniture?
Preparing Furniture for Refinishing
The Care of Antique Furniture
Using adhesives to repair antique furniture

Other Resources
Chinese Antique Furniture Reproduction Procedure Chart

Chinese Antique Furniture Books and Other Publication

China Style Antique Decorating
This part features a variety of contemporary interiors that demonstrate the successful application of Chinese antique furniture and reproductions in a minimally designed framework.
- Antique Living Room Furniture
- Antique Study Room Furniture
- Antique Office Furniture
- Antique Dining Room Furniture
- Antique Garden Furniture
- Antique Shopping Hall Furniture
- Antique Store Furniture
- Antique Kitchen Room Furniture
- Antique Bedroom Furniture
View Detailed Information

Furntiure Gallary
Collects antique chinese furniture pieces from Shang, Warring State period, Han, Wei, Qi and Jin, Sui, Tang, Five Dynast, Ming, Qing. It will give you a complete idea about Chinese Antique Furnitures.


View All Furnitures



About Us
To promote Chinese antique furniture art and culture, we built the site. We hope that this site will become your one stop on the web for anything of Chinese Antique Furnitures related.



Chinese Antique Furniture Culture is updated monthly so that there is always something new to see.

View Detailed Information
The Latest Submitted Sites
Chinese Tea Utensil
Deal with chinese antique furniture and other chinese arts.
Styleourhome - Unique Home Accessories Online
Offers unique home accessories online with a wide selection of contemporary and classic home accessories combining stylish features and superior craftsmanship to give new style to your home. including soft furnishings, soft seating, furniture, lighting, mirrors, sofa throws and home accessories uk.
---
Relative Information
Chinese Furniture: A Guide to Collecting Antiques
The international market for antique Chinese furniture is booming, and masterpieces from the Ming and Qing dynasties are now worth hundreds of thousands of dollars. Chinese Furniture is a survey of these collectibles-from the very best hardwood pieces featured to standard softwood.
Ancient Chinese Furniture Appreciation and Collection
On the subject of ancient Chinese furniture, this book introduces in detail basic knowledge of appreciation and collection, as well as the forms, structures, material, crafts and skills of ancient Chinese furniture. The main content includes the appreciation, collection and identification of the crafts, titles, year, material and patterns of ancient Chinese furniture.
Chinese Furniture Retailer's "Fake Imports" Fine Paid: Authorities
Authorities in Shanghai said Saturday that luxury furniture retailer Da Vinci has already paid its "fake imports" fine, over a month after the company openly refused to pay the penalty fare.