The furniture of this office was sourced from antiques dealer Nicholas Grindley in London, there is a 19 th-century Hong Mu desk with cracked ice design and a set of four horseshoe armchairs dressed with stylish contemporary padded cushions for extra comfort. On the wall is a pair of ancestor portraits, purchased in Hong Kong, which look down over the modern day business proceedings. At the end of the room is a spindle-back settee, also made of Hong Mu.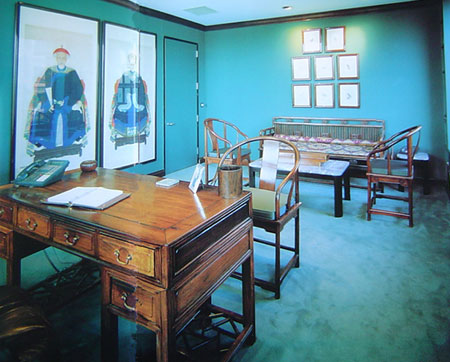 Light filters into the office through three large windows shielded with blinds. The wooden ceiling and flor mouldings have been stained in the same shade as the Huanghuali document box (on the marble coffee table) and the Huanghuali table, which hosts a 15-piece group of seated tomb musicians from the Northern Wei Dynasty (386-534). The calligraphy brush set and rack was a gift and is merely decorative.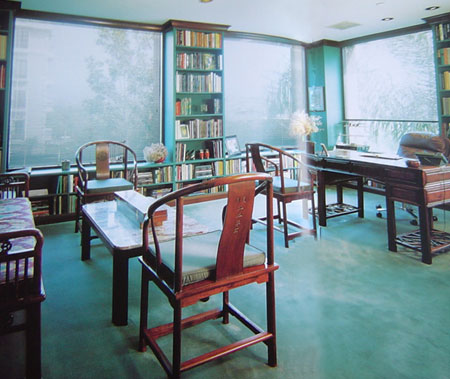 The paneling in the entrance hall is original and is made of Georgia pine, the most popular timber for paneling when the apartment was built in 1929. The carpet with dragon motif was not woven for the floor, it would have been wound around a pilar in an Imperial palace hal. When the two sides join the dragon's body becomes complete. The painting is from a set of 20 th century Chinese paintings. The rest, over 90 of them, are hanging in the Metropotan Museum of Art, not far from Ellsworth's home.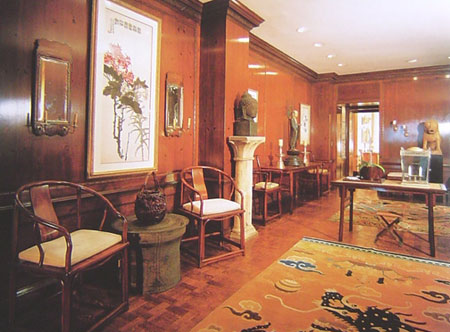 View Other China Style Decorating Topic
Antique Chinese Living Room Furniture
Antique Chinese Study Room Furniture
Antique Chinese Office Furniture
Antique Chinese Dining Room Furniture
Antique Chinese Garden Furniture
Antique Chinese Shopping Hall Furniture
Antique Chinese Store Furniture
Antique Chinese Kitchen Room Furniture
Antique Chinese Bedroom Furniture