Wood is a natural living product, therefore, wood furniture will "breathe" in response to changes in the atmosphere. Rapid or extreme fluctuation in temperature, humidity or direct sunlight may cause cracking, splitting, and/or warping of the piece.Wood as a plant contains water in its structure. Throughout our manufacturing process, substantial amount of water would have been eliminated from the wood to make it stable. However, wood still expands or contracts as related to the relative humidity in the air. One exception is wood that has undergone chemical treatment.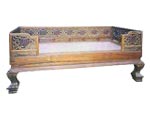 The design of Chinese furniture has already catered to this behavior of wood. In particular, a large surface is usually made with floating panel framed by wood members on four sides. The floating panel can expand or contract but still has its surface secure and intact. In an extremely dry environment, the contraction, however, might reveal certain "un-colored" portion of the tongue that is inserted into the wood members. If the furniture is moved to a higher humidity environment, the wood will expand and the "un-colored" portion will be concealed again. This is a normal behavior for Chinese furniture.


The ideal condition for furniture is a stable atmosphere with relative humidity fluctuations of 40 - 70 percent, and a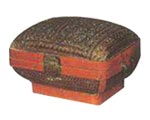 temperature from 60 - 80 degrees Fahrenheit.Operating a humidifier or putting a glass of water inside or underneath the furniture may help to maintain humidity.

Strong sunlight can cause fading or other changes. If you leave objects in a permanent position on the furniture, uneven fading may also occur.Avoid placing furniture next to radiators, hot air vents, air conditioners, or open windows. Do not place hot containers directly onto the surface of the furniture.

Careless handling of the furniture may also cause damage.
Wood is an organic substance, and each species of wood has individual characteristics such as color, texture, and smell. We apply appropriate finishes on each piece with those characteristics in mind, so the finish and the design of the wood enhance one another and work together harmoniously.


Use dry cloth, soft brush or the brush of a vacuum cleaner to remove dust on the furniture. If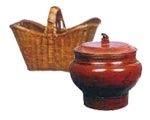 needed, use a dry or mild damp cloth to wipe away dirt or stains. This is the only cleaning you need for the furniture. Never use too much water to clean the furniture.


There is normally no need to re-wax the furniture very offen . Just wiping with a dry cloth can restore the shimmer. However, if there has been too much stain on the surface, or the furniture has lost its shimmer altogether, re-wax is then needed. Use only a thin layer of soft "paste like" furniture wax. High quality furniture beeswax is easily available in the market. Never use the spray type furniture wax, otherwise you will have to say good-bye to the beautiful furniture color.


For certain finish of our pieces , the paint and color is made very thin to best reveal the wood grains. The furniture surfaces therefore cannot withstand too much scratching. So if objects such as lamps or vases are to be placed on furniture top, it is highly recommended to shield them with soft padding on their bottom surfaces.

Do not use abrasive kitchen cleaners, as they will scratch the surface.
Do not use chemicals or other commercial cleaners on furniture.

More detailed tips of furniture maintenance
How do I stain furniture?
How to refinish a wood table?
How to refinish wood furniture?
How to restore old wooden furniture?
How to restore your old furniture?
Preparing Furniture for Refinishing
The Care of Antique Furniture
Using adhesives to repair antique furniture